If you are skeptical about what a criminal justice degree can bring you? You are at the perfect place to find out. On one hand, a criminal Justice degree brings job security and carrier growth on the other hand it leads one to a path of honor and job satisfaction. Moreover, the field of criminal justice provides plenty of opportunities in areas like reporting crime, advocation, rehabilitation, and investigative work. Furthermore, according to the US Bureau of labor statistics, criminal justice jobs are expected to grow about 5% from 2019 to 2029.
If you admire those superheroes and crime-fighting people that you see in movies, criminal justice degree would be the best fit for you. Take my online class for me has summed up all the career opportunities that you can look for after a criminal justice degree.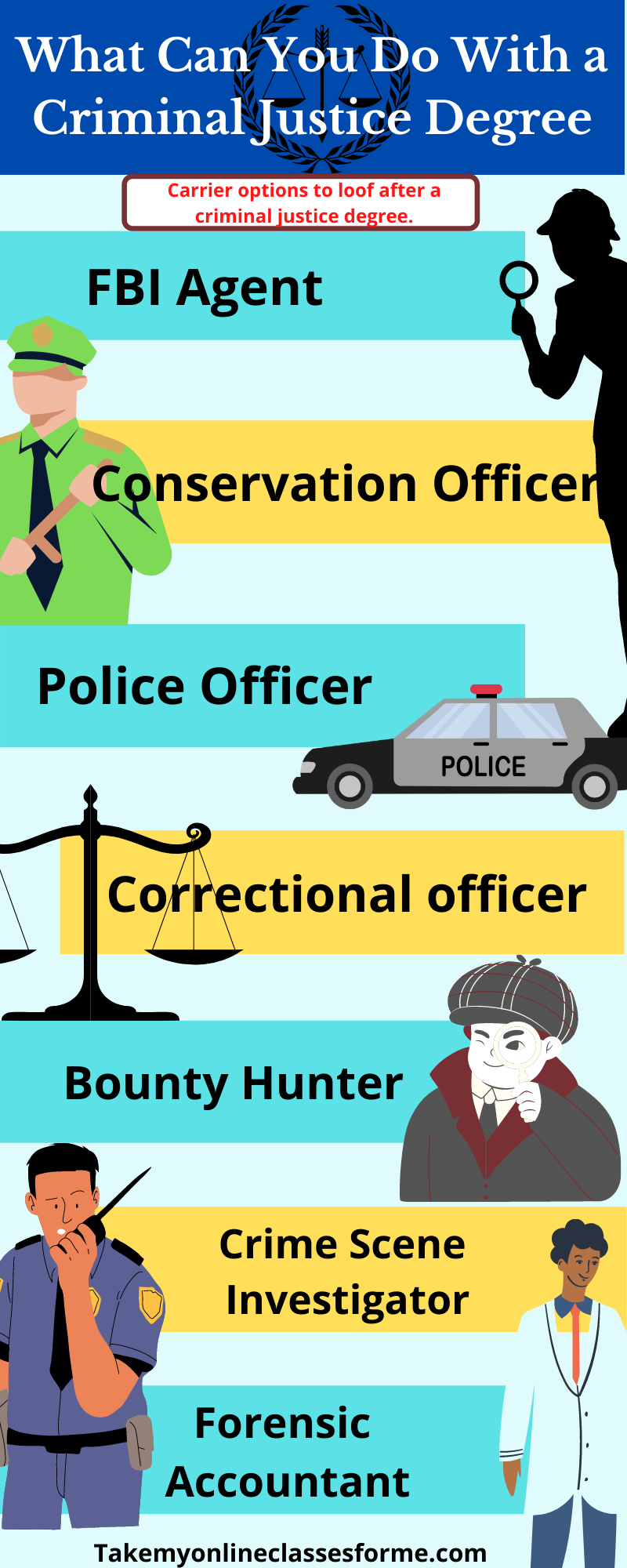 FBI Agent
Working for the FBI is probably the zenith of criminal justice careers. FBI agents defend Americans from domestic threats on behalf of the US government. The tasks that FBI agents conduct are determined by their background and specialization.
Some professionals, for example, operate as accountants, while others monitor suspects. Most FBI agents, on the other hand, gather evidence, obtain warrants, and make arrests. FBI employees frequently work more than 40 hours each week.
Selection is rigorous progress. Candidates must also be at least 23 years old. They must pass a series of tests, including interviews, background checks, personality profiles, and physical requirements
Education required: Bachelor in criminal justice with at least a 3.0 GPA
Average Salary-$64,629
Projected growth rate – 7%
Expected employment locations: Federal Government.
Read Here: What Are The Best Online IT Master's Degree Programs 2022?
Conservation officer
The role of a conservation officer is to protect natural resources and wildlife at the local and Federal levels. Also, some responsibilities include an inspection of the equipment, license checking, analyzing the methods of catching fish and other animals in hunting, and determining if those methods are in compliance with the rules and regulations.
Their main goal is to ensure that the fisherman and hunters are following the state and federal laws.
Some officers also work to spread awareness and educate the local public.
Education required: Bachelors in criminal justice recommended, Associate degree.
Average Salary: $ 41,280 annually.
Projected growth rate – 5%
Expected employment locations: Local, State, and Federal Governments.
Police officer
The work of a Police Officer is to protect the laws and lives of citizens at the local state and federal levels. Following this, their responsibilities include patrolling in their assigned areas to ensure safety, responding to calls and making moves in a crime situation, making arrests, and reporting unusual activities or incidents.
To be a police officer, one must complete a high school diploma and Training. However, we can help you in completing your degree or diploma. All you need is to say to us to do my online exam for me and we will helpyou oass with great scores. Besides that, officers with a bachelor's degree in criminal justice have higher salaries and quick job promotions.
Being a police officer requires good decision-making and critical thinking skills.
Education required: High School diploma, bachelors in criminal justice optional but preferred.
Average salary: $52,050 Annually
Projected growth rate: 7%
Expected Employment locations: State, local, and Federal Governments.
Read also: A stress-free morning routine for college students
Correctional officer
Correction officers are those who supervise people who are held in jails, prisons, or correction cells. Also, they oversee arrested individuals and those who are serving their time in jail.
High school graduation and completion of a training program are required for corrections officers. Some jobs, such as those in federal prisons, need bachelor's degrees in criminal justice or counseling, as well as several years of experience.
Corrections managers are in charge of frontline security and safety for both employees and convicts, as well as overall management.
Their responsibilities include checking convicts and visitors for weapons and narcotics, monitoring inmate activities, and inspecting facilities to ensure they meet the highest hygienic, security, and safety standards are just a few of their tasks.
This kind of job is physically challenging. Also, they have to work closely with criminals. One should need to possess strong decision-making skills, self-restraint, and self-discipline.
Education required: High school diploma required, bachelor's in criminal justice recommended
Average salary: $ 39,890
Projected growth rate: 4%
Expected Employment locations: State, local, and Federal Governments.
Bounty Hunter
Bounty hunters are those who operate alone to arrest criminals and fugitives. These experts usually go for those who have skipped bail or failed to appear in court. The majority of bounty hunters work for bail bond companies, however, some also work for local law enforcement authorities.
Those who want to work as bounty hunters must have a combination of education, experience, and skill. Many bounty hunters start their careers as cops, earning the expertise and abilities needed to track down and catch offenders. Bounty hunters do not require a specific level of education, however many begin their professions with degrees in criminal justice.
Private detectives and investigators, including bounty hunters, should expect above-average job growth from 2018 through 2028, according to BLS predictions.
Education required: None required, bachelor's in criminal justice recommended
Average Annual Salary: $51,200*
Projected growth rate: No Data Available
Expected Employment locations: Anywhere
Also Read: Is Online Class Certificate Worth It?
Crime Scene Investigator
Crime scene investigators (CSIs) examine crime scenes, gather critical evidence, and utilize their knowledge and experience to track down and apprehend culprits, such as by collecting DNA samples. Many CSIs work in groups inside their agency, although they can sometimes work alone.
A bachelor's degree in forensic science or a related field, such as biology, chemistry, or criminal justice, is often required of CSIs. However, you can often ask us to take my online coursework for me if you are facing trouble while studying. acing They must also finish extensive training programs that teach them how to document evidence, use fingerprints, analyze blood splatter, and work at crime scenes.
Education required: Bachelor's degree
Average Annual Salary:$56,320
Projected growth rate: 19%
Expected Employment locations: Labs, Crime Scenes, Offices
Forensic Accountant
Forensic accountants work in law enforcement, their daily responsibilities consequently are similar to those of ordinary accountants and auditors. They discover criminal activities using accounting skills, which often leads to prosecution. Gathering financial data, preparing evidence, and ensuring compliance with local, state, and federal regulations are among the daily chores.
Education required: Bachelor's degree in Accounting
Average Annual Salary:$ 71,560
Projected growth rate: 4-5%
Expected Employment locations: Local Offices, Police Stations
Emergency Management Coordinator
You'd establish strategies and processes for responding to natural disasters and other emergencies in this position, as well as lead the response during and thereafter. Most emergency management coordinators work with state or municipal governments, but hospitals and charitable groups may also hire them.
You must have several years of expertise in emergency response, catastrophe planning, or public administration for this mid-to-senior level position.
Education required: Bachelor's degree with some experience in disaster management.
Average Annual Salary: $55,430
Projected growth rate: 6%
Expected Employment locations: Local or State
Probation Officer
Probation officials work with recently released prisoners or convicted criminals who are sentenced to probation rather than prison to rehabilitate and support them. They frequently communicate with the friends and also family of persons on probation. In any case, they ensure that those who have been released have solid support systems.
On a daily level, empathy, communication, and social awareness assist probation officers to succeed.
Education required: Bachelor's degree in criminal justice recommended.
Average Annual Salary: $43,450
Projected growth rate: 18%
Expected Employment locations: State or Federal Government.
Forensic psychologists
Forensic psychologists analyze people to determine their cognitive processes and motivations. These experts utilize their expertise to interview witnesses and criminals in order to solve crimes and rehabilitate condemned offenders.
Many forensic psychologists help in criminal cases. They frequently testify in court to make recommendations, such as whether convicted criminals should be sent to mental health facilities. Some forensic psychologists specialize in certain types of crimes or criminals, such as child abuse.
A doctoral degree and 1,000 hours of supervised experience are required for all licensed psychologists. It is a well-paying job.
Education required: Bachelor's degree in criminal justice with a master's degree in psychology.
Average Annual Salary: $79,100
Projected growth rate: 14%
Expected Employment locations: State or Federal Government
Criminal Profilers
Criminal profilers are Federal Bureau of Investigation (FBI) special agents who use intense analysis to provide investigators with a psychological or physical description of a suspect. They try to frame the circumstances, motives, and events of crime from starting to end.
Education Requirement: Associates or Bachelor's Degree
Average Annual Salary: $54,000
Expected Job Growth: 4%
Employment Locations: Local, State, and Federal Governments
Homicide Detective
Homicide detectives are an important aspect of most law enforcement agencies, because they examine deaths caused by criminal conduct. Typical day-to-day responsibilities in addition to examining crime scenes are evidence locating and questioning witnesses, and apprehending suspects. Because homicides occur at all hours of the day and night, homicide detectives sometimes work unusual hours, sometimes exceeding 40 hours per week.
Homicide detectives must have an experience as a police experience for a sufficient amount of time. They must possess problem-solving, critical thinking, and decision-making skills.
Education Requirement: High school diploma required, Bachelor's Degree in criminal justice recommended.
Average Annual Salary: $74,398
Expected Job Growth: 7%
Employment Locations: Crime Scenes, Police Offices.
Private Investigator
Private investigators assist in cases on a local, state, and federal level, and are an important part of legal, financial, and criminal investigations, as well as the search for missing persons. Following suspects, acquiring evidence and information, surveilling, and interrogating persons are common in many cases.
Depending on the client, private investigators may take on both criminal and non-criminal situations. A license is required for private investigators to operate. Although state licensing requirements differ, all private investigators should pursue bachelor's degrees and law enforcement experience.
Education Requirement: High school diploma required, Bachelor's Degree in criminal justice recommended
Average Annual Salary: $56,398
Expected Job Growth: 13%
Employment Locations: Anywhere
Paralegal
Paralegals, sometimes known as legal assistants, work in law firms to help attorneys and lawyers. Further, their daily responsibilities include assisting attorneys with trial preparation, scheduling client meetings, and case research. Paralegals help with most legal responsibilities, but they cannot represent clients in court.
Paralegals are normally required to have an associate degree from a community college, while certain employers may accept paralegals with certifications and appropriate experience. New paralegals with bachelor's degrees are preferred by some firms, and paralegals with bachelor's degrees earn the most money.
Education Requirement: Associate in paralegal studies required, bachelor's in legal studies recommended
Average Annual Salary: $51,798
Expected Job Growth: 12%
Employment Locations: Law Offices
Alos Read: Know tips and tricks for online classes time management
Substance Abuse Counsellor
Addiction counselors assist those who are battling with or recovering from alcohol or drug addiction. Meanwhile. many of their accused have committed crimes and are required by law to finish counseling. Counselors for substance misuse operate in a variety of settings, therefore their duties can be in rehab institutions, hospitals, and private clinics.
Individuals must receive state license and industry certification in addition to earning bachelor's degrees in counseling or psychology.
Education Requirement: Bachelor's degree in counseling, psychology, or criminal justice required.
Average Annual Salary: $39,498
Expected Job Growth: 15%
Employment Locations: Rehabs, Offices, Hospitals, clinics
A criminal justice degree opens many doors. What's more interesting is, that it offers versatile opportunities for students and professionals looking for carrier growth and job satisfaction. Besides the fact that a criminal justice degree does good for society they also come with thrill packed. Therefore, it makes an amazing carrier option. In addition to this, read our blogs for more interesting content and all the best for your future.
Get Assistance With Various Online Courses at Takemyonlineclassesforme.com
At Takemyonlineclassesforme.com, we adhere to students' requirements and need to help them in the best way with their online courses. Nowadays, online courses have become a trend and students find them convenient and comfortable. However, there are challenges that students have to undergo that make them stressed. That is why we have come up as a helping hand for students by taking their online classes and exams on their behalf. Here is a list of some of the online courses for which students can take our help.
OL 421 Strategic Management And Policy
CWV-101 CHRISTIAN WORLDVIEW