Every student has a dream to study in a good and prestigious university which should be famous all over the globe. But how many students can actually fulfil their dream? If we see numbers then it is very small. This is because expenses are so high. Not everyone can get enrol themselves in a great university as their courses and other expenses touch the sky. If you are also one of those students who sacrifice his dream because of lack of money then this blog is for you. Here, we are going to discuss the free courses offered by Harvard University. Yes, Harvard university free online courses have that value that is required to get a good job anywhere on the globe.
We at Take my online class for me can help you with your online courses. If you also want to make your place at Harvard then this blog can help you. So keep reading….
Let's Know All About Harvard EDX
Harvard University is one of the oldest universities in the United States. It is a private Ivy League research university situated in Cambridge, Massachusetts. The university is composed of ten academic faculties plus the Radcliffe Institute for Advanced Study. Arts and Sciences offer to study in a wide range of academic disciplines for undergraduates and for graduates, while the other faculties offer only graduate degrees, mostly professional.
Edx is also a part of Harvard University which plays a major role in the education system of Harvard University. It is opened in 2012 by scientists from MIT and Harvard. Edx is an American massive open online course (MOOC) provider created by Harvard and MIT. It hosts online university-level courses in a wide range of disciplines to a worldwide student body, including some courses at no charge. It also conducts research into learning based on how people use its platform. Edx is a non-profit organization purchased by the company 2U.
Read: Leading Excuses For Missing An Online Class
Harvard University Free Online Courses Offered In 2021
There is a long list of free online courses offered by Harvard University. If you are interested then you can have a look at the list we are going to share below:
CS50: Introduction to Computer Science
PredictionX: John Snow and the Cholera Epidemic of 1854
CS50 for Lawyers
PredictionX: Omens, Oracles & Prophecies
CS50's Introduction to Artificial Intelligence with Python
Advanced Bioconductor
Case Studies in Functional Genomics
Introduction to Bioconductor
Systematic Approaches to Policy Design
The Health Effects of Climate Change
Principles, Statistical and Computational Tools for Reproducible Data Science
Religion, Conflict and Peace
High-Dimensional Data Analysis
Introduction to Linear Models and Matrix Algebra
Statistics and R
Handel's Messiah and Baroque Oratorio
Statistical Inference and Modeling for High-throughput Experiments
Beethoven's 9th Symphony and the 19th Century Orchestra
Monteverdi's L'Orfeo and the Birth of Opera
And Many More…
These are some common free online courses offered by Harvard University. The list doesn't end here, it's a long list. If you are not finding your course on the list then do not panic. Just ping us and tell us your requirement, we can certainly help you as we have a huge team of experts who can help you with diverse topics and subjects. Takemyonlineclassesforme.com is a US-based website that provides online help to needy students. Our every online expert belong to the United States only so that you won't face any problem with them. Basically, we provide native experts help to the students.
Read Also: Best Online Schools Offering Online Psychology Degree In 2021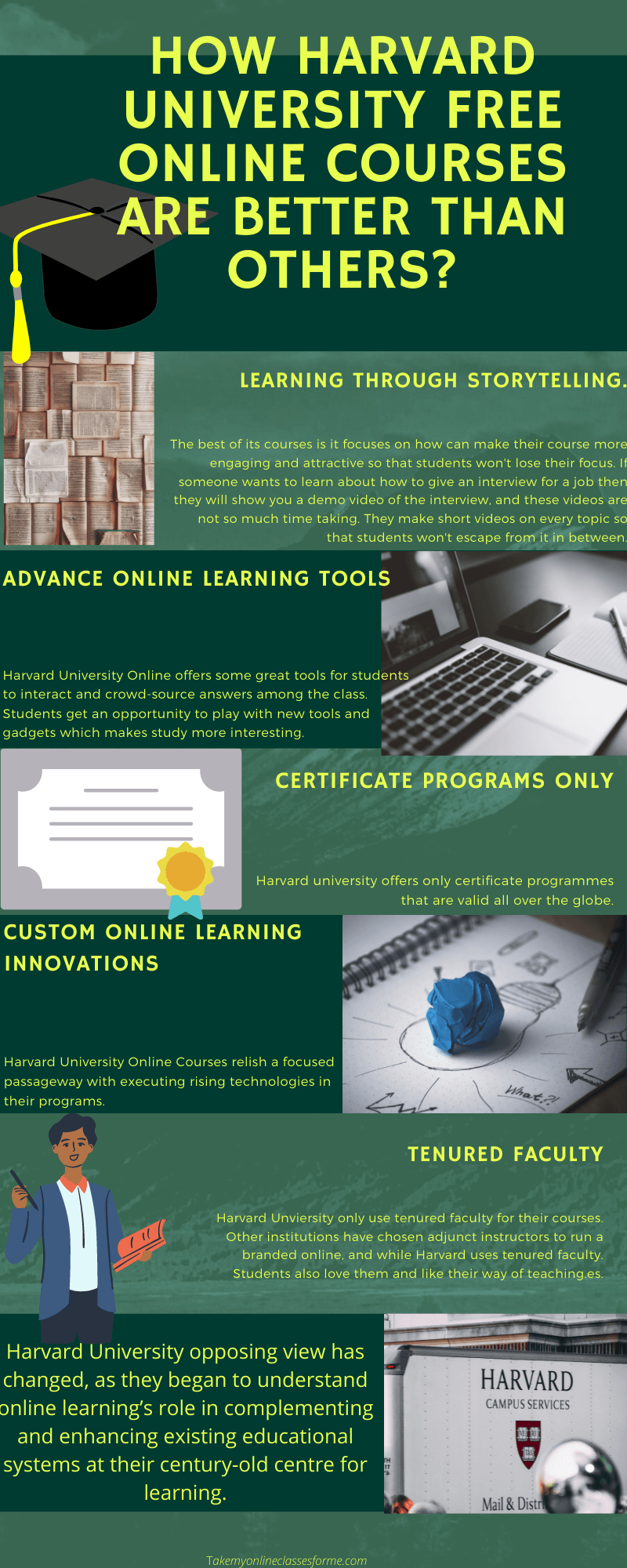 Now Its Time To discuss Harvard University Free Online Courses In Detail
Yes, here we going to discuss few free online courses in detail that means you will get full details about a particular course. We have prepared this list for you so you can comfortably choose your course. Whatever, you choose, we assure you will get help with each and every course. And if you will face any sort of issue then, you can say our online experts to take my online class for me. So here we go…..
1. CS50's Introduction to Game Development
If you are interested in games and want to get higher education in this area but cannot afford sky-high fees. Then, you can enrol here for Harvard university free online courses. Do not worry, this course has the same value as a full-time course. That means once you get a certificate in game development you will be eligible for many career opportunities in this area as it is part of programming.
What will you learn in this online course?
You will get learn about the 2D and 3D interactive games. You will get an opportunity to learn the basics of games and explore games like Super Mario, Pokemon, etc.
Course Language: English
Duration of the course: 7 months ( You need to give 6 to 9 hours per week)
The best part of this course is that you can earn your certificate while sitting home. Yes, that means, no matter how far you are living, you can get your degree without any hassle. Programming is not an easy subject, you may have to face several hurdles while attending your online classes. But you do not need to worry, you can ask us for help. Even you can say us to do my online exam or test for me.
2. CS50's Introduction to Artificial Intelligence with Python
As you know we are stepping into artificial intelligence's world where our every work will be done by machines(Robots). By enabling new technologies and tactics we are trying to give more power to machines. According to stats, in the upcoming years, AI will be on the boom. So you can imagine your future in AI. The demand for expertise in AI and machine learning is growing rapidly. This free course will take you to the first step from where everything seems unbelievable. You will get learn about machine learning, python rules and regulations, AI principles, you will get learn to design intelligent systems and many more new things. Enrol now to acquire expertise in one of the fastest-growing technology and that is too free.
Duration of the course: 10 weeks ( you need to invest 10 to 30 hours per week)
Language of the course: English
The platform of the course: EDX
Data algorithm, AI, Computer science, machine learning, AI, are some focused areas of this course. In case, you will get difficulties while learning, you can reach out to online class expertise.
Read Also: How to choose the best online learning website?
3. Religion, Conflict and Peace
It is a part of Humanities. If you are interested in society and its norms and want to more about it then, this course will give you a good idea about society and its culture. You will get explore several religions in-depth such as Hinduism, Buddhism, Christianity, Islam, and Judaism. You will get learn about how religion plays a major role in contemporary conflicts, how religion is embedded in all human cultures, etc, etc.
Duration of the Course: 8 weeks (4 to 8 hours per week)
Course Language: English
Medium: Online
Platform: EDX
Refer: E-learning is the future of Education. Why?
4. CS50's Understanding Technology
This Harvard university free online course is specially designed for those students who do not understand computers so well. But they want to know and make their future in this field. This course works as a bridge between student and their knowledge about computers and technology. You will get learn about the internet, the web world, multimedia, hardware, software, and many more. It will prepare you for your tomorrow as the future will be full of technology. So if you want to increase your computer knowledge then do not hesitate to enrol here. And there is no loss after all it's totally free.
Duration of the course: 6 Weeks
Platform: EDX
Medium: Online
If you find it interesting then go for it. Or if you want to explore other courses offered by Universities in the US then you can refer to our blog about what universities offer professional online courses in US?
5. Cell Biology: Mitochondria
As it defines by name it is a topic of biology so it comes under the bio group. This course is all about the human body and its parts. You will get learn about the cell in depth. The cell is the smallest part of the human body. This course is designed to explore the fundamentals of cell biology. These cells are evolving ensembles of macromolecules that in turn form complex communities in tissues, organs, and multicellular organisms.
Duration of the course: 4 weeks long
Course Language: English
Subject: Science
Platform: EDX
So these are few courses offered by Harvard University for free. The list is very long but it will be hard for us to discuss every course here. If you want to know about any particular course, just call us or ping us. Our support team will respond to you instantly. We can help you with everything which is available online. You can ask us to take your online test, quiz, exam, online coursework, and many more. Our experts have good knowledge of online platforms such as Edmentum, EDX, MATLAB, etc.
Visit us for various online coursework help
At takemyonlineclassesforme.com, you can obtain help with any kind of online class or course. Whether it be with online exams, online tests, quizzes, or midterm exams, we are always here to help you. Simply get in touch with us with your requirements, and our experts will finish your online coursework.
Below is the list of online coursework:
PSYC460 SPORTS PSYCHOLOGY ONLINE COURSE
BUS 622 FINANCIAL STATEMENT ANALYSIS
CM01305 Construction Cost Accounting Online Course
PSYC460 SPORTS PSYCHOLOGY ONLINE COURSE
Edmentum
Online math class
And many more.
We keep updating our list so keep visiting us and get the best help.
FAQ's
Q.1 Are all online courses offered by Harvard University are free?
Ans. No, some online courses are chargeable.
Q.2 What are the mandatory things to attend online classes?
Ans. Good network and laptop
Q.3 Is EDX only adopted by Harvard University?
Ans. No, many other universities from diverse countries give training to their students through EDX such as China, the Middle East, Indonesia, Japan, France, India and Spain, other countries.