Do you find it difficult to manage your time? Do you often think to yourself that there just aren't enough hours in the day? Thanks to the technology as it save here to save our day, as there are a large number of apps and tools you can download from the Internet to increase your productivity, you can check things off your to-do-list, and generally be more organized and efficient at the same time. There are many who thinks that the Internet is not the place to learn to study but it not true. There are thousands of websites and tools to manage the study schedule that is specially designed to help the students to improve their skills and overall development. Moreover, you can take my class regardless of the subject area, demographic, etc. on the internet.

In this blog, I'll tell you about the best online websites and free tools to help you manage classes. You can learn everything with the help of these tools. Such as digital flashcards, time management, quizzes, study games, self-made quizzes, and everything. These tools are to manage the study schedule and can help the students of any age to get ready for the tests and exams. The best part is without any cost as they are absolutely free tools. Moreover, you can rely on these websites to assist you with your online classes as well.
Tools to manage study schedule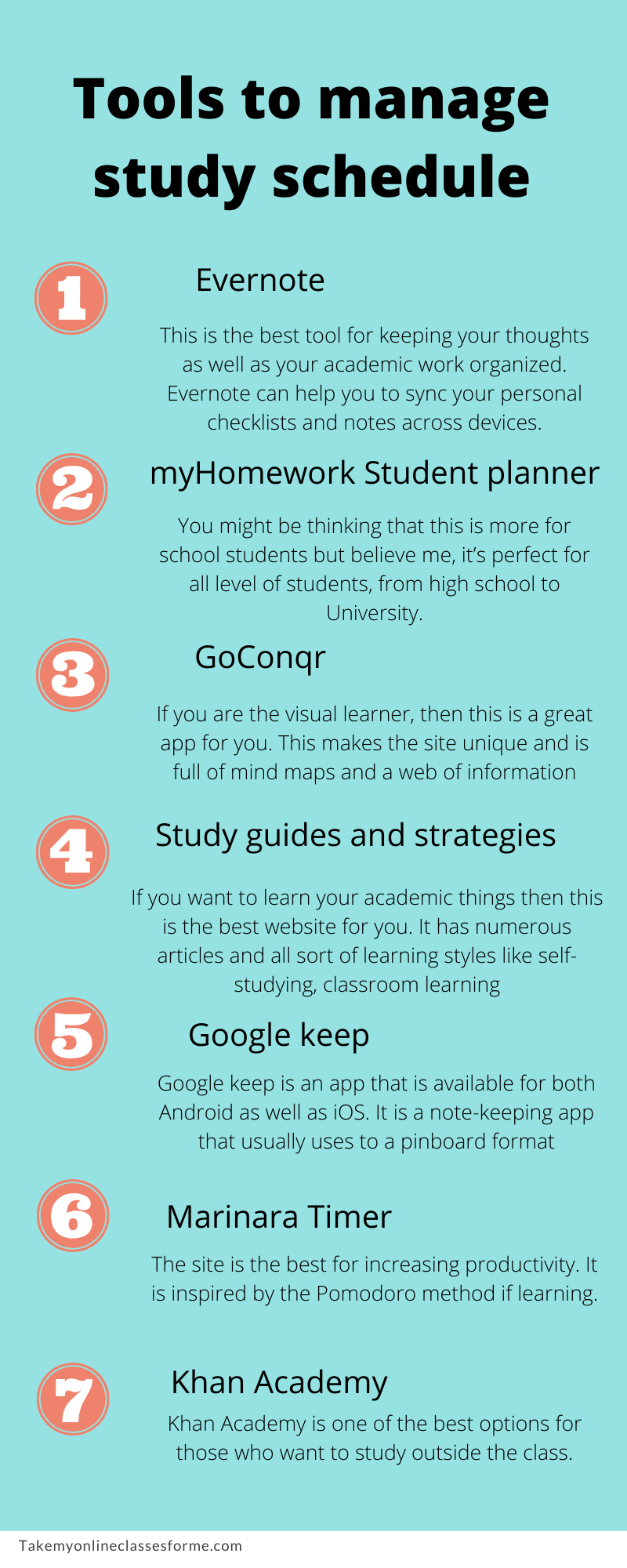 Below are some of the tools to manage the study schedule for the students. Go through it:
Evernote
This is the best tool for keeping your thoughts as well as your academic work organized. Evernote can help you to sync your personal checklists and notes across devices. It means if you are working in a task on a device and later if you want to switch that task to another device then you can easily do it without losing anything. Using Evernote, you can easily take notes in a variety of formats including, audio, web clippings, videos, and texts and you can also easily attach the Microsoft Office documents and PDFs easily. 

MyHomework Student planner
You might be thinking that this is more for school students but believe me, it's perfect for all level of students, from high school to University. myHomework student planner gives you a calendar in which you can easily track all your academic-related work like the date of your exams, upcoming assignments, projects and all other upcoming events. Also, you can easily sync your assignments and receive reminders for when they're due so in this way you'll get to know what academic work has done and what needs to be done, you'll never miss any deadline.
GoConqr
If you are the visual learner, then this is a great app for you. This makes the site unique and is full of mind maps and a web of information that helps you by broadening the lengthy subjects into smaller topics. When you create a mind map, it will help you to see how things connect to each other. It helps you to understand and memorize in a great way.
This site also has good features such as note-taking platform, study planner, flashcards, collaboration tool and a way to track how much you're learning. So all in all this is all of one app.
Study guides and strategies
If you want to learn your academic things then this is the best website for you. It has numerous articles and all sort of learning styles like self-studying, classroom learning, and group learning etc. It also provides good tips that how you can easily write papers, how to do presentations, how to manage your time, prep for and take tests and everything. The best part is that it is available in about 40 different languages. It might be an old website, but the information there is great and priceless.
Google keep
Google keep is an app that is available for both Android as well as iOS. It is a note-keeping app that usually uses to a pinboard format. It also allow you to pin, pictures, lists, notes and voice memos, it can easily search for the previous pins. You can easily share your list with the others and also receive location-based reminders.
Marinara Timer
The site is the best for increasing productivity inspired by the Pomodoro method of learning. If you are working for 2 minutes and then taking a minute break, then Marina timer allows you to customize your own personal timer to study effectively. By taking a small break while you study will increases your attention span, productivity and focus. This is the best website to help you to reward yourself for your hardwork. Also, it will let you know then when is the time to get back to the work, hence helping you learn time management for online classes.
Khan Academy
Khan Academy is one of the best options for those who want to study outside the class. This is a free and reliable resource. It presents you with the class options tailored to your education level. You can easily find any information about any subject in this resource including Microeconomics, geometry, organic chemistry, persona finance, and many more.
The founder of this resource Salman Khan will set you up with the courses to get you on your way to your goals.
I hope these tools and apps help you with your academics. Try to give them a try and see which ones help you out the most among all and then let us know in our comment section.
Takemyonlineclassesforme.com
It is one of the top-notch websites in the USA. Students looking for assistance with online classes come to us for help. It happens too often you do not find a way to deal with the pressure posed by online classes. Juggling between multiple classes is always difficult, hence take my online class is what students end up searching on the web. We are aware of Do's and Dont of an online class and help you succeed in all kinds of coursework. Time to say goodbye to all your online classes worries. Spread the word and help your peers excel in their classes. You can also contact us for other online courses such as: